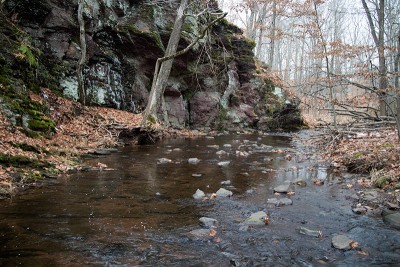 Short trails along fields and through forests, with a 30-foot cliff near Ten Mile Run.
3 miles, easy, mostly level. There are two rock-hop stream crossings over Ten Mile Run on the Brown trail, one is potentially tricky.
Shorter: Yellow loop (1.19) or portions of other trails.
Longer: continue further on Brown
Even longer: RED continues into Griggstown Grassland Preserve

Our two cents: Nice option for short hikes in central NJ, but not something to drive far for. The stream crossing is not really hard, just potentially wet. Stick to hiking Sundays during hunting season.