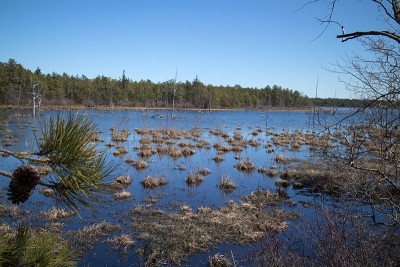 Hike around old cranberry bogs through a beautiful section of NJ's Pine Barrens, and look for wildlife from an observation platform.
Easy, flat, no elevation changes. Soft, pine needle or sand surface. Potentially wet areas and crossings. A section of the YELLOW trail was completely impassable the day we hiked, and we couldn't complete the loop.
6.6 miles – YELLOW and WHITE trails

Our two cents: There is a lot of variety in this park and plenty of visually interesting areas to photograph. The trail network is well planned and offers a lot of route flexibility. In addition to the marked trails, there are many paths around the bogs. But like many areas in the Pine Barrens, a good portion of this park is on wide sand roads or around old cranberry bogs which might push the definition of 'hiking' for some.