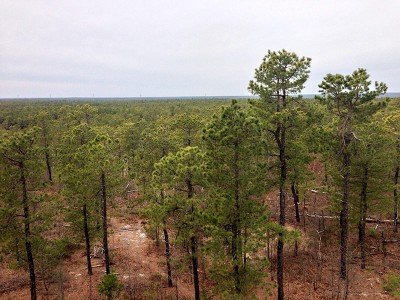 We had an errand to run in Toms River so afterwards we popped over to Jakes Branch for a hike so as to not waste a drive down.
This park is just a few minutes off the Parkway so it's a convenient stop.
The trail map had been updated since we first hiked it. The Swamp Trail (WHITE) is now shown on the map as well as an Interpretive Trail (GREEN). By doing those along with the Tindey (BLUE) trail, we were able to get in an easy 4.9 miles. A YELLOW bike trail bisecting the park had also been added.
Our first stop is always to head to the top of the visitor center for a great view over the pine barrens.