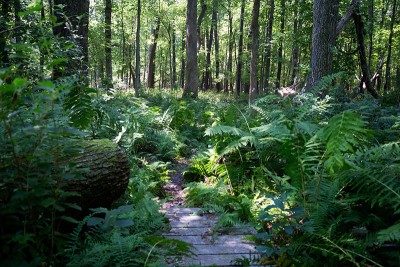 Small county park with a very nice trail system through a pine forest with several short, easy loops – or combine all for a 5.0 mile hike.
Trail surface: Very easy: level and soft pine needles, with boardwalks to cross brooks and wet areas. Some overgrown grassy areas after crossing Pleasant Valley Road.

Our 2-cents: It's not worth driving from far away to, but if you are in the area it's a nice park to get an easy hike in.
Updated 8/13/15 - Revised hike directions and GPX; new photos.