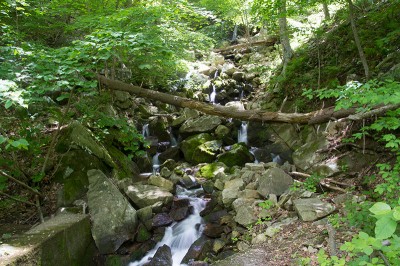 For us, a holiday weekend means heading in the opposite direction of Jersey's beach traffic. We'd just had a lot of rain so we went west on Rt. 78 to check out Musconetcong Gorge's cascades.
We hadn't been since 2009, and planned on doing a similar but longer route by just going further on Highlands to Staats Rd. and then backtracking to the Switchback trail down to the Railway trail.
But when we arrived at the stream crossing at Pine Run, we saw there was a WHITE trail that wasn't on the map – bonus trail! – so we decided to take that instead on our return.