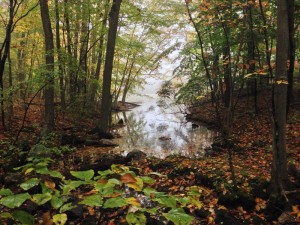 Moderate loop that features Lake Sonoma and several viewpoints in the northern part of Norvin Green State Forest.
The forecast said "partly cloudy". The radar map showed no precipitation anywhere nearby. We figured the fog that loomed in the distance halfway on our drive there would burn off as the morning wore on.
Nope.
It wasn't raining, but the fog had made the downed leaves wet enough to be slippery and this only got worse as the morning wore on and it didn't clear up. It was beautiful regardless, with everything shrouded in fog and there was an eerie quiet quality to the forest.


Except that every viewpoint was fogged in.