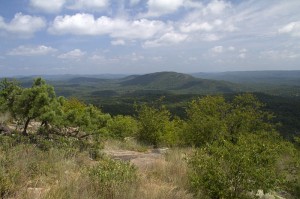 Rugged loop in Norvin Green State Forest that includes a waterfall and several expansive views, including the NYC skyline on a clear day.
We decided to skip out the Friday before Labor Day weekend for a quick-ish hike at Norvin Green, one of our favorite parks in Jersey. There are great views combined with some of the most rugged and remote-feeling trails in the state.
To change things up, we decided to start from a trailhead we never had before - the Wyanokie Crest Trail. This is off of Glenwild avenue, not far from the parking for Otter Hole and Osio Rock. Normally we start at Weis and go to High Point and circle around from there.