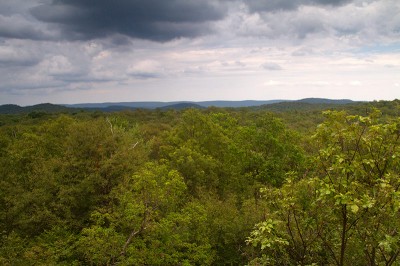 We'd done this route just once, in March of 2010 ("Norvin Green – Lake Sonoma and Overlook Trails"). There were several expansive viewpoints so we wanted do it again when everything is in bloom.
Turns out there are a few less views with the leaves on the trees, but still very nice.
As we're driving down Burnt Meadow Road toward the trailhead, I go "wow, that's a pretty realistic lawn decoration of a – WAIT, THAT'S A REAL BEAR!!!!"
As we drove past the house we whipped our heads around to see a huge black bear in a front yard, nonchalantly sniffing around the porch.
Alrighty.
We were on bear alert a little more than normal but the rest of the day passed uneventfully without making any new bear "friends".