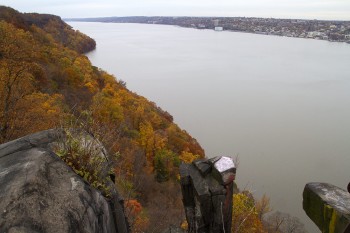 Outstanding views of the NYC skyline while hiking above and below the impressive rock face of the Palisades… with a little Revolutionary War history thrown in for good measure.
5.5 miles, surface ranges from easy path to rocky trail. One decent downhill to the shoreline and then another uphill back to the upper trail, where there is considerable road noise.
Our two cents: While not a truly remote wilderness experience, hiking along the Shore Trail feels far removed from city life – even with the fantastic views of the NYC skyline. The Palisades offer a unique hike experience that every Jersey-area hiker should check out at least once.