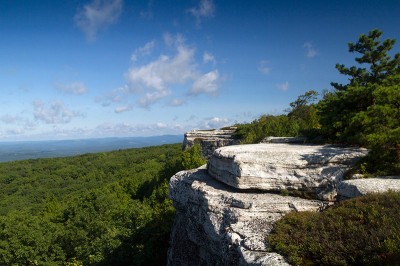 Explore an ice cave, a waterfall, and enjoy spectacular views of the Shawangunks region and the Catskill mountains.
Seasonal Notes: The ice caves fill with ice and are closed until passable in spring or summer – but by late summer won't have much or any ice in them. The falls can dwindle to a trickle in the summer.
With dwarf pines and ridge hiking there is significant sun exposure so prepare accordingly (plenty of water, sunscreen, hat) or chose a cooler time of the year.
Trail surface: Moderately rocky, minor scrambling on the High Point Trail.
This route: 11.3 – Sam's Point, Ice Caves, Verkeerder Kill Falls, High Point
Shorter: 7.1 – Sam's Point, Ice Caves, Verkeerder Kill Falls [noted in description]
Short: 3.8 miles – Sam's Point & Ice Caves [noted in description]