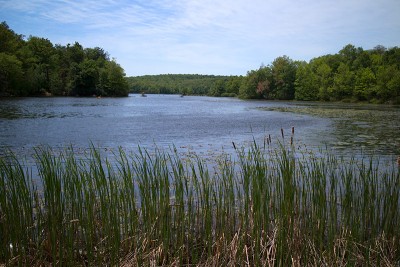 Pleasant, easy route that follows woods roads, passes Lookout Lake, skirts Wawayanda Lake, and goes to Wawayanda Furnace.
Mileage: 10.9 miles, mostly easy surface.
Wawayanda's trails are mostly level, woods roads so the hiking here isn't as rocky or rugged as is usual in the Highlands, or in the Kittatinny range in NW Jersey. The elevation change isn't too bad, either.
Updated 6/4/15: Description updated to reflect map changes, photos and revised GPX added.
Our two cents: This is somewhat off the beaten path and therefore isn't the hike to take on a first visit to Wawayanda; check out the main park trails first by starting at the visitor center or the lake itself. The first part of Old Coal is just OK but gets progressively better from around Lookout Lake.