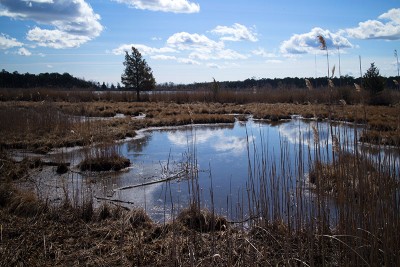 Hike through pine lands, around marshes, and along beaches while looking for Osprey in nesting platforms.
Easy surface of sand, pine needles, wood chips, boardwalks. Level, no elevation change.
6.9 miles: this route, combining all trails in the park
Shorter: RED Loop (1.7), YELLOW (1.5), BLUE (2.2)
Combine 2 loops for a 3-4 mile hike.
Great photography and birding opportunities; vast bay views. Osprey build nests in the spring, and we spotted one less than 5 minutes from the parking lot - bring a telephoto lens or binoculars (we use a lightweight monocular). The trails are very easy and are better suited for short loops from the main parking lot; a loop longer than 6.9 isn't really possible. This is one of NJ's beachy hikes and may not fit your definition of "hiking". Some road noise along RED.