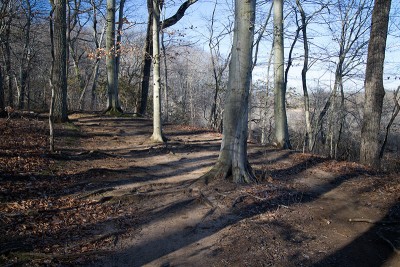 Hike over rolling forested hills and along Doctor's Creek in a small park surrounded by Jersey farmlands.
4.5 miles. Hilly, packed dirt, roots but not a lot of rocks.
Shorter: Glen loop: 0.7, Bridges loop: 1.8, other loops from combining trails
Longer: Not really, would have to loop back around to do the inner trails too
Our two cents: Worthwhile for a moderate or short hike in a pretty, farm-filled area of central Jersey. This park was recommended to us multiple times but we kept avoiding it as it's known more for biking. It wasn't an issue at all on the chilly winter days we went (ratio of bikers to hikers was about 50-50), but on a nice summer day your results may vary.