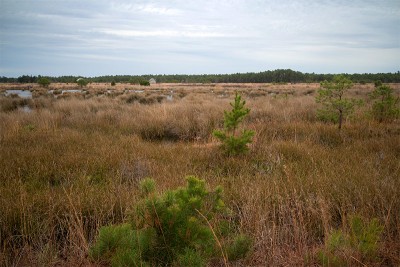 Hike through a beautiful section of the pine barrens and around old cranberry bogs.
Easy, flat, no elevation changes. Soft sand and pine needles, some potentially soggy areas, a few water crossings on logs.
7.7 miles – this route, RED and GREEN trails.
Shorter: 6 mile loop – just RED [recommended] or 6.7 mile loop – just GREEN
Short: Use the paths around the bogs to truncate RED very early on; not sure of the mileage.

Our two cents: This park contains some of the nicest hiking in the pine barrens. RED is mostly through forest, while GREEN follows along old cranberry bogs. RED is a well planned out, really enjoyable trail and is the more interesting of the two trail loops from this lot – and gets bonus points for a cool suspension bridge. GREEN has more open views of the water areas but it's mostly straight sand roads can get a wee bit tedious – and may push the definition of "hiking" for some.