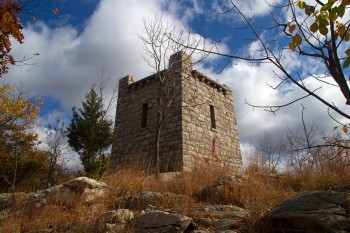 This route takes in Ramapo Lake, Van Slyke Castle ruins, plus views of the surrounding area and of NYC.
Ramapo Mountain State Forest, located in Bergen and Passaic Counties, contains a popular, extensive network of trails. It's easy to create loops of any length and there is a lot to see, even on a short loop.
This is a very, very popular area, especially going to and around the lake. But the further you hike away from the lake/castle area, the less crowded this park becomes.
10 miles, moderate trail surface, many moderate elevation changes. Some of this route is overgrown and grassy. The route described below is long, but there are indications in the description for shorter hikes.