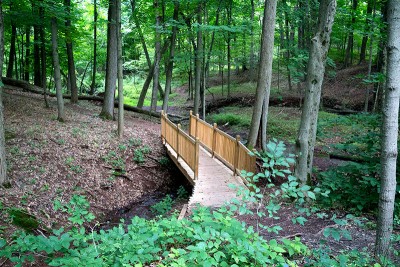 Small parcel of old growth forest with a network of easy, scenic trails near Rutgers New Brunswick campus.
3.8 miles, compact red clay / shale, roots. Somewhat hilly with a few somewhat steep ones. Well maintained trails.
Shorter: Do only an individual loop like YEL, RED, BLUE, etc
Longer: Overlap in a YEL or WHT loop or go a bit on the East Coast Greenway (which runs in Johnson Park but is mainly paved)

Our two cents: Nice easy park that is suited more to short loops from one of the parking areas. For avid hikers, this is a quick but pleasant leg-stretcher that is worth a stop if in the area.