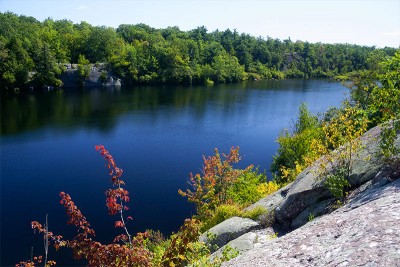 This moderately challenging loop combines pleasant forest walking with rocky scrambles and passes by pretty Terrace Pond.
4.8 miles – Rugged, rocky surface with some scrambling.
Shorter option: Start with BLUE and go right to the pond and back, skipping the YELLOW and RED portions of the hike below. Keep in mind the BLUE trail heads uphill on the way there, with some rock scrambling.
Variation: Reverse the loop to put the scrambling in the beginning and the easier part of the trail (YELLOW) at the end. This is the best option if it's wet, and in general many find scrambling UP easier than DOWN.