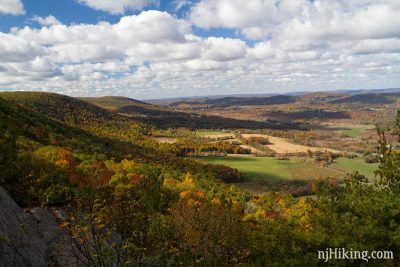 Hike boardwalks, a suspension bridge, hardwood forest, fields of wildflowers, train tracks, a cow pasture, a boulder field... before steeply climbing the "Stairway to Heaven" to one of the best viewpoints in NJ: Pinwheel Vista.
The Kittatinny Mountains are visible in the distance, farms in the valley below, and on a clear day, High Point Monument.

7.3 miles - Moderate. Trail surface ranges from super-duper-easy-peasy boardwalks to flat, hardpacked to dirt to serious rocky sections. The "Stairway to Heaven" is a series of rock slab steps steeply switch-backing up Wawayanda Mountain.


Updated 10/20/15 - Description updated, new fall foliage photos, GPX added.