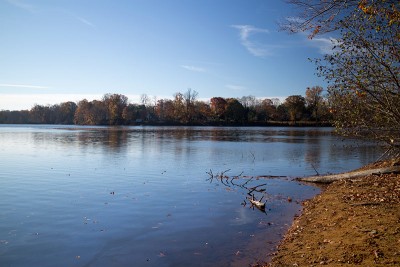 Hike through fields and forest around Swimming River Reservoir and Marlu Lake in Monmouth County.
Trail surface: mostly easy; some very prominent roots, especially in the beginning, and grassy areas can be quite muddy. Mostly flat, no big elevation changes.
This route: 6.9 miles
Shorter: Marshy Walk (.3 mile.), Woodland Trail (.6 mile), and various loops using multiple trails such as Reservoir and Marlu
Also, a 1-mile track loop for runners (it's forest and not an artificial surface)
Update 11/8/15: Route changed to incorporate Marlu now that the bridge connects it to Reservoir, description updated, new photos.

Our two cents: Nice park for short loops and easy strolls, plus a playground, ball fields, and even canoe and snowshoe rentals in season. For the avid hiker, this is pretty mild but we were able to get a nearly 7 mile loop out of the trails so it is a good option if relatively nearby. Lots of hiking along fields and not remote feeling. Navigating can be a tad difficult.