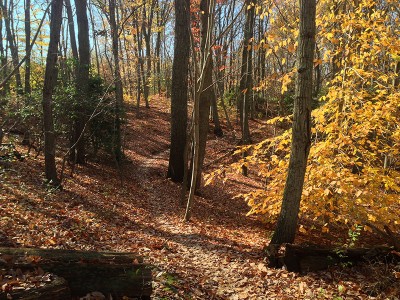 Pretty, well-maintained trails that are best for short loops plus a visitor center and small reptile house.
5 miles to do the perimeter of the park, minus the farm trails. Surface is packed earth with exposed roots, few rocks. Some minor hills along Many Log Run.
Shorter: Multiple short trails under 2m each; link several for 3-4 mile loops.
Longer: Add walking around the Farm trails for an 1 mile or so. To get any more, you'd likely have to double back onto interior trails.
Our two cents: Leans toward light hiking; also lots of trail runners, dog walkers. The parking lot is in the center of the trail system which makes it very easy to cut a hike short if need be.
Avid hikers won't find much to challenge them but is a nice option when looking for a nearby park to get 5+ miles in. No real viewpoints, streams, or lakes. Park skirts the edges of yards at some points, some yard/road noise. Some trails are multi-use bike/horse. Bonus: small reptile house next the visitor center has snakes and turtles.