It was a day for just me and Orion to hike. The weather was perfect. The drive up to Water Gap was beautiful (we go up Rt. 31 from South Jersey. It's a 2 hour drive but it's worth it every time.) So we parked at the lot by Buttermilk Falls on Mountain Road. The plan (plan A that is) was to go up the Buttermilk Falls trail to Woods Trail (southbound), around Blue Mt. Lake, back to Woods Trail and back down the Falls trail.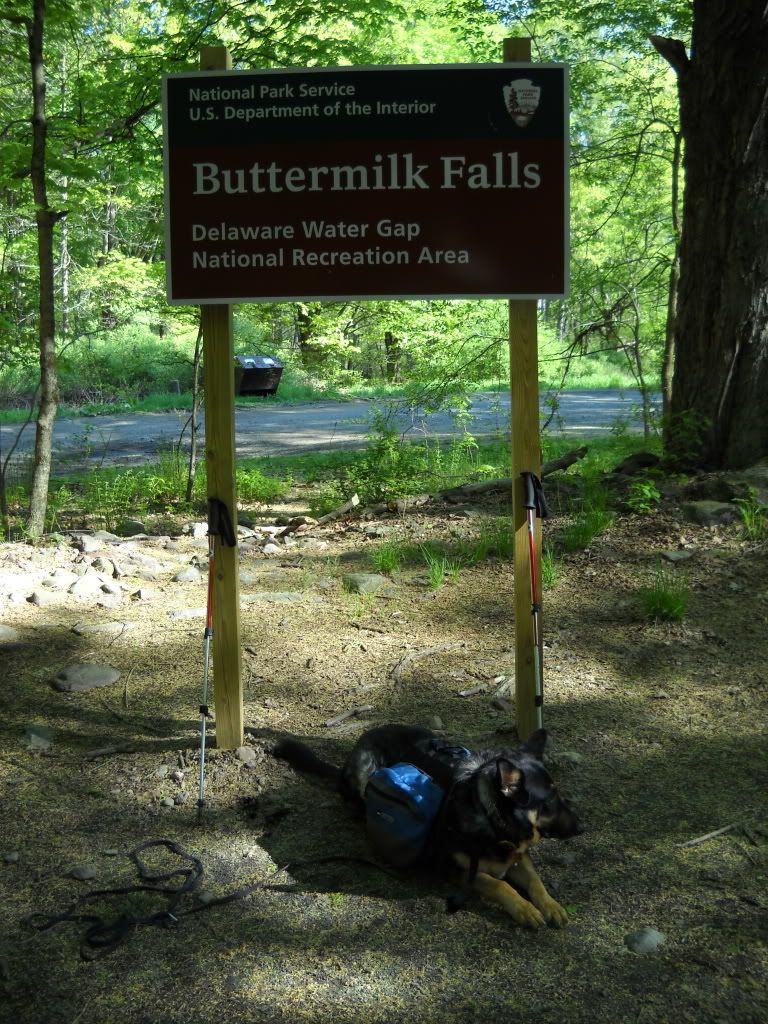 We started up the stairs after enjoying the sight of the Falls. Roughly half the way up the stairs, however, Orion stopped. He just did not want to go further up. I'm not sure what his issue was because he's climbed up some challenging rocks before. He looked up those stairs and wasn't having any of it.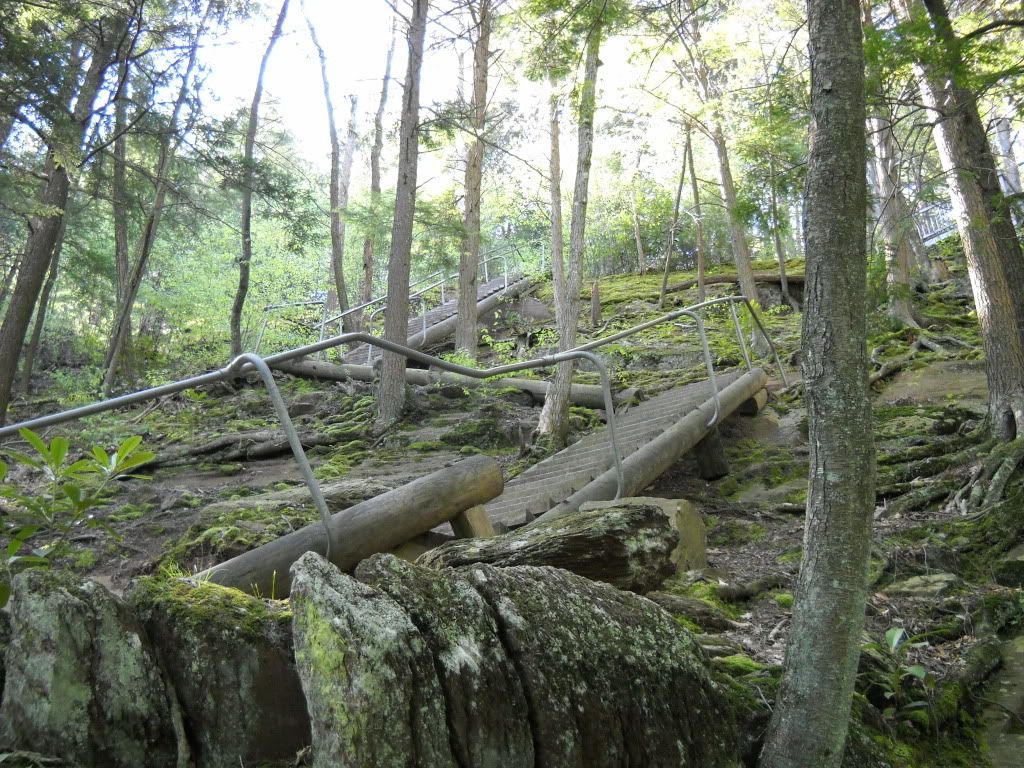 On to plan B. We drove around to the parking lot on Blue Mountain Lakes Road and went in on the trail from there. At that point I decided to make it a shorter, easier hike just in case Orion wasn't feeling up to it. I was watch him carefully for signs of fatigue and have made it a rule to stop, rest and return to the car at the first sign that he was 'dogging it' (pun intended.)
After a meeting a very nice pair of slightly older hikers in the lot who were so interested in Orion's pack and hike with a dog themselves, we headed off onto the trail further to the East (sort of the outside loop.) The trail itself (at least the outside loop) is clearly used by park vehicles but it was a very nice walk.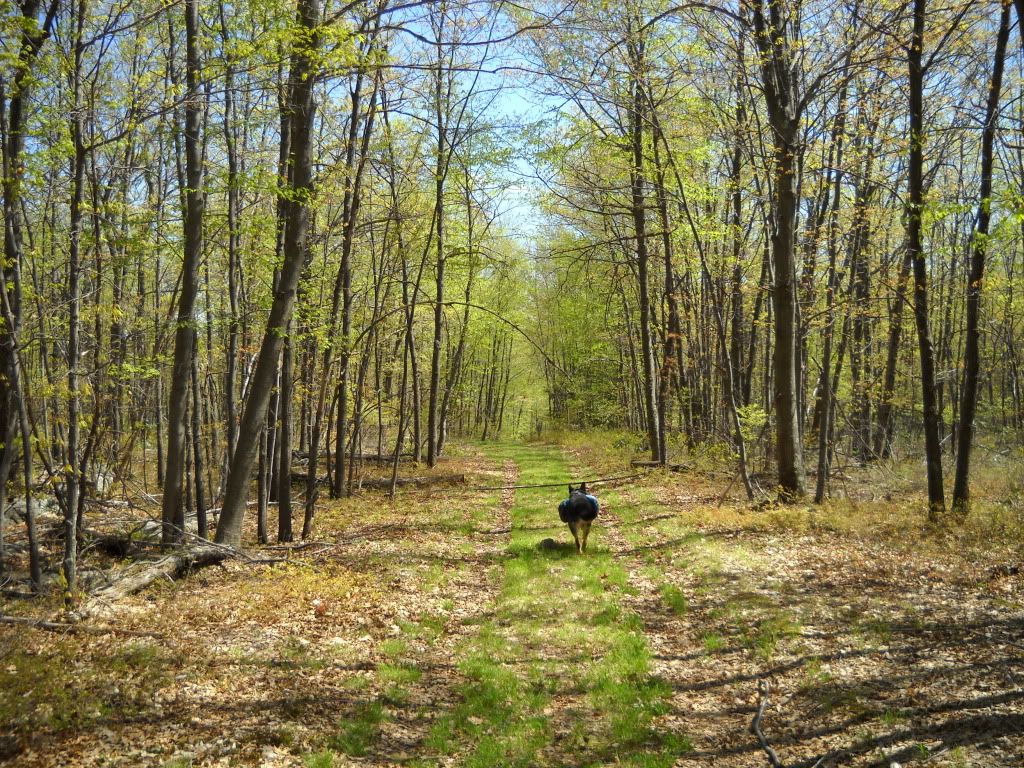 Orion had no problems taking the lead as always! Blue Mt. Lake is beautiful and certain vistas reminded me of my service days in Colorado many moons ago (although on a slightly smaller scale.)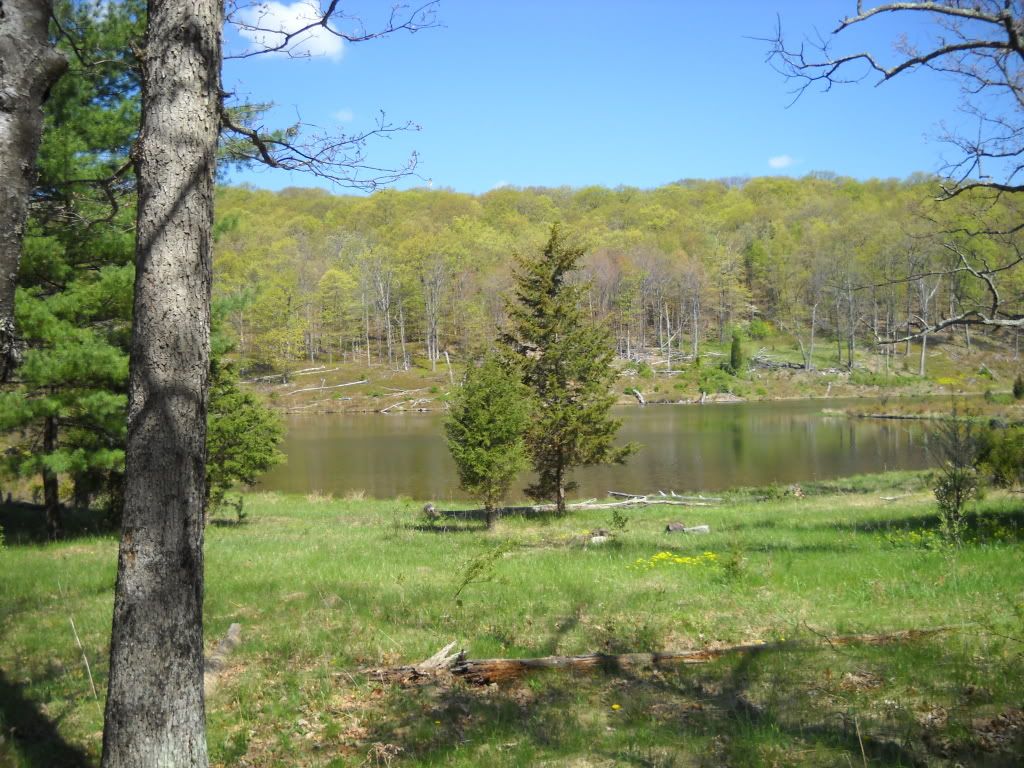 As we rounded Hemlock Pond I experienced something that I had yet to experience hiking. We reached a trail intersection and I pulled out the map and compass to make sure we were headed in the right direction. Despite the information at hand, I actually felt a little lost. I felt like the map wasn't reflecting my current position and that confusion was a little concerning. Ultimately we looped around Hemlock Pond right back to that same intersection and I realized my error. Lessons learned: 1. Don't Panic - I knew it was early enough in the day that a little lost time in the woods would not put us in any jeopardy. We had plenty of water and food (I always pack more than necessary), we had communications, essentially we had all the top ten things we needed. It was relaxing and letting that panic subside that was a new experience. 2. Trust the information at hand - Arguing with a map and compass is just foolish.
All in all it was a terrific day. Orion did great, no signs of fatigue although I did pull a tick off of him when I checked him at the end of the trail. Towards the end of the trail we noticed more people arriving, most to hang out by the lake and not to hike. Not surprisingly there was trash on the trail where there had been none at the beginning of our hike (Seriously, bagging your dog's pooh and then leaving the bag on the trail. Come on.) All in all it was a good day. Some lessons learned for a novice hiker and beautiful weather to boot.