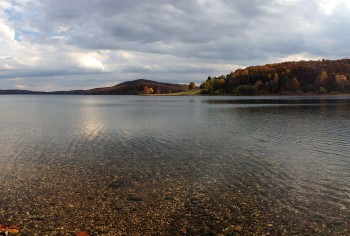 Surprisingly rugged workout from a central NJ park, with some views of beautiful Round Valley Reservoir.
The park also has something rather unique in NJ: remote campsites that are accessible only via hiking or paddling.

10.4 miles. Lots of up-n-down hills with a surface that varies between flat, packed dirt to tons of softball-sized rocks… the kind that like to roll an ankle. Campground Trail is a flat, gravel woods road. Trails are multi-use. Fee charged in season; gets crowded in summer.