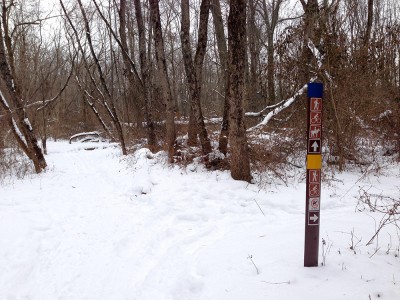 With several inches of snow still on the ground, we decided to check out the BLUE trail from the Canal Road parking at Six Mile Run Reservoir.
This is a good choice for snow – the trail was well traveled with bootprints, and ski and snowshoe tracks.
The trails are easily managed on ski/snowshoes and the field edges are a nice option when there's snow.
The trails in this park have changed several times over the years. When we first hiked it, we made a loop with BLUE and YELLOW but the YELLOW trail is no longer on the map because it's too wet.